PRP facial a totally natural age-defying treatment that's 100% customized for your skin, and your skin only. At My Botox LA Med Spa, we're excited to offer vampire facials and vampire facelifts — groundbreaking platelet-rich plasma face treatments (PRP treatments) that use the regenerating power of your own blood plasma to "revamp" your skin and reverse signs of aging at the source.
Become your most beautiful self with PRP Facial at My Botox LA Med Spa
Once you've visited My Botox LA Med Spa for your PRP facial treatment in Los Angeles, we promise you'll love what you see when you look in the mirror. Our dedicated provider is highly trained and certified in every detail of vampire procedures to make sure you get the absolute best and safest skin transformation. Most of our clients say that they feel like a million bucks after trying a vampire facial or vampire facelift.
It's not just our phenomenal results that make My Botox LA Med Spa one of LA's top-rated medical spas, however. We've earned those 5-star reviews through our essential client-centered philosophy. We're proud to do what we do, because we believe that everyone deserves to feel great in their own skin. My Botox LA Med Spa is here to help you on your journey toward your aesthetic goals, and it starts from the moment you walk through our door. Between our gorgeously sunny office, friendly, knowledgeable team, and exceptionally skilled provider, you'll feel comfortable and supported every single step of the way.
What is PRP facial treatment good for?


Dull, grey complexion

Fine lines and wrinkles

Chronically worn or "tired" appearance

Skin that's thin, fragile, or crepey

Uneven tone and texture

Loss of elasticity

Acne scars and pits

Scars from trauma or chicken pox

Discoloration like sun spots or melasma

"Hollow" areas and loss of volume

Noticeably oversized pores
After your PRP facial, you'll notice:

Firmer, bouncier skin

Glowy, more radiant look

Vibrantly rosy and healthy tone

Clearer complexion

Youthful plumpness

Skin that's smoother to the touch

Rested and refreshed appearance
How much does a vampire facial cost in Los Angeles?
At My Botox LA Med Spa, we offer PRP facials in packages of 3 to achieve the most dramatic, long-lasting results for our clients. The cost will depend on the customized treatment plan you create with our provider. Contact us today for a personalized plasma facial consultation by a Los Angeles expert!
What is a Vampire Facial?

How do PRP facials work?

PRP Vampire Facial benefits

How long do vampire facial results last?

What is a vampire facelift?

How long does the vampire facelift last?
Los Angeles Vampire facelift benefits

Along with the global skin improvements you'd get from a plasma facial alone, the vampire face lift is fantastic for correcting:
Smile lines (between your nose and mouth)

Marionette lines (between your mouth and chin)

Other lines and wrinkles around your nose, mouth, and eyes

Eyebags and hollow tear troughs

Dark circles and crepey skin

Sagging and loss of volume in the midface

"Droopy", worn, or tired appearance
After your PRP facelift, you'll see:

Instantly younger appearance

Noticeably rested, fresh, lifted look

Plump, bouncy skin

Visibly reduced wrinkles

Much better firmness, smoothness, and elasticity

Radiant glow

Vibrantly rosy and healthy tone
How much does a vampire facelift cost?
The cost for your PRP facelift in Los Angeles will depend on the individualized treatment plan you create with our provider. Contact us today for a personalized vampire facelift consultation!
What to expect from your PRP facial treatment in Los Angeles
Every My Botox LA Med Spa service begins with a personal consultation with our provider. She'll go over each step of your your personalized treatment plan with you and answer any questions before the procedure.

To make sure you're completely comfortable, we'll put a topical numbing cream on your skin before the vampire facial or vampire facelift. While waiting for the cream to take effect, our provider will draw a small amount of blood from your arm. (This part is quick and easy — it's like donating blood, but faster.) Next, our provider will put your blood sample in a centrifuge to extract platelet rich plasma for face treatments. As the centrifuge spins, your red blood cells will separate, leaving behind only the clear PRP.

The vampire facial procedure uses microneedling to help the PRP soak into your cells. It's called "micro" needling for a reason; the needles are extremely thin and tiny, only lightly pricking your skin. When the PRP is spread over your face, it absorbs through the "micro channels" created by the needle, penetrating extra deep into your skin.

Instead, the vampire facelift procedure uses injections of PRP combined with 1 syringe of a dermal filler. Our provider will apply the PRP into your smile lines and under your eyes. The filler is then injected according to your treatment plan — usually in the smile lines, as well.
For both procedures, most of our clients say they feel very little, if any, discomfort.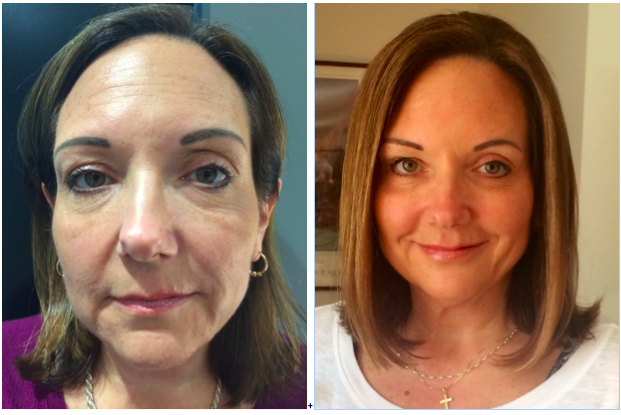 Vampire facelift & vampire facial recovery time and aftercare
The Los Angeles vampire facial is so non-invasive that there's virtually no recovery or aftercare needed. You should be able to walk out of our clinic and get back to your usual daily activities right away. Some clients briefly experience minor redness and peeling after the procedure. To be safe, we recommend that you avoid sunlight and make sure you're using a high SPF sunscreen after your plasma facial.
The vampire facelift is also minimally invasive with no downtime. However, since the procedure includes dermal fillers, there might be some minor bruising or swelling at the injection site for a few days. For best results, we recommend the following post-procedure guidelines:
Don't wear makeup or wash your face for 12 hours

Skip high-impact exercise or strenuous activity for 1-2 days

Avoid sunlight and use a high SPF sunscreen while healing
---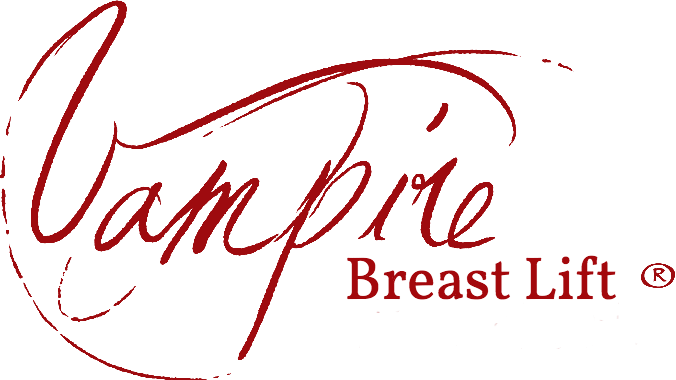 Vampire Breast Lifts in LA - as the use of PRP (Platelet Rich Plasma) has advanced in the field of aesthetics, new uses have been discovered, including triggering the body to firm and plump the breasts with injections of this naturally- derived blood product. This treatment is completely natural and does not pose a risk of rejection, as the PRP is extracted from your own blood.
The product is rich in growth factors that stimulate collagen growth to produce firmer, plumper breasts and a lifting effect. There is no downtime, but it will take several months for the regenerative effect to occur. Many Los Angeles clients notice a difference in breast skin quality in only a few days!

---
Call us today to learn more about Vampire treatments in Los Angeles