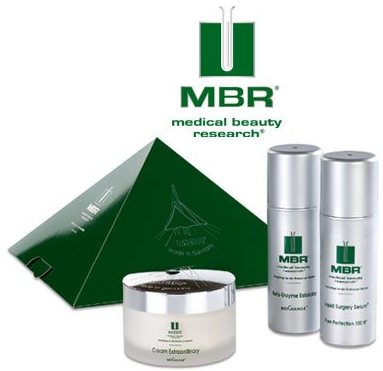 MEDICAL BEAUTY RESEARCH (MBR) – The Ultimate Skincare Products In Anti-Aging Protection.
Regain tight, youthful, radiant skin with skincare products from MBR (Medical Beauty Research). Beauty is in the eye of the beholder, and everyone in the room will be amazed by your radiant skin when you use beauty products from MBR skincare. This German company, founded in 2000, is dedicated to developing the best luxury anti-aging skin products. After years of research, the team at MBR created skin care treatment systems designed for several skin types. Every individual has different needs and the MBR beauty product collection consists of several specially formulated product groups. Within each group, there are cleansers, serums, eye creams, balancing gels and other skincare products to deep clean, tone and revive.
MEDICAL BEAUTY RESEARCH Skincare And Moisturizing Products Revitalize All Skin Layers.
Your skin consists of three layers – the epidermis (surface layer); the dermis (second layer) and the hypodermis (third layer). Medical Beauty Research skincare products work on the epidermis and dermis.
The epidermis, your surface skin has 4 or non-vascular layers. Your epidermis is thicker on the soles of your feet than on your face or neck. The surface layer of your skin is constantly shedding to reveal new fresh skin as old skin cells die.
The dermis, the second layer of your skin, contains two layers, the papillary and reticular layers. The dermis contains collagen fibers, elastic tissues and reticular fibers. As we age, the dermis produces fewer collagen fibers than it did when we were younger, causing thin, sagging skin.
Boosting collagen production and moisture is the end goal of MBR skincare products. When used regularly, and according to the MBR care principle of "Open-Treat-Close" , you'll see a long-term improvement in skin moisture, elasticity and texture.
Medical Beauty Research's Care Principle is a treatment system you can use when applying the company's beauty products at home. It groups a facial or body care regimen into three phases –
Open – use products designed to remove dead skin cells, which prepare the skin for penetrating of other nourishing ingredients.
Treat – apply concentrated serums and other beauty products to stimulate renewal process in the epidermis and dermis.
Close – use sealers and other skincare products to ensure ingredients stay in the skin and nourish cells longer. This helps the skin remain elastic and intensifies collagen production.

High-End, Natural Ingredients make MBR Skincare Your Luxury Beauty Choice

You've seen some of these ingredients (jojoba oil, allatoin) in other beauty and skincare products. Others, like Beta-White™, MBR® Herbal Infusion and CroNoline™ are exclusive to the Medical Beauty Research product line. Developed by MBR's team of dermatologists, surgeons and pharmacists, MBR skincare products provide a unique treatment system to rejuvenate aging, damaged or oily skin. Choose BioChange® CytoLine® Face Mask 100 an MBR beauty product containing lavender oil, tocopherol (Vitamin E) or another natural moisturizer if you have dry skin. To boost collagen production, choose BioChange® Cell Power Vital Serum or other products containing peptide- rich Trylagen™ or Syn®-Hycan.

When you use MBR beauty and skin care products, you get the ultimate in skincare. Medical Beauty Research products do more than skim the surface, they penetrate deep into your underlying skin layers to plump up skin from the inside out. MBR beauty products and cosmetics contain carefully formulated ingredients developed by our researchers to keep your skin firm and toned long after application. Here are just a few of the ingredients you'll find in MBR skincare products.

MBR® Herbal Infusion contains hydrating ingredients to moisturize skin, as well as anti-fungal and anti-bacterial agents to keep skin clear. Antioxidants in the infusion's herbal blend fight free radicals that damage cells. This potent, natural collection of herbs includes the leaves, bark, flowers or fruit from Willow, Chamomile Extract, Grapefruit, Camellia Sinensis and Propolis. Pure Perfection 100 N®'s Cream Extraordinary contains MBR® Herbal Infusion.

Acqua Cell hydrates the skin and smoothes wrinkles. It activates the skin's natural moisturizing functions to reduce wrinkles and lines after application. This super moisturizer is made from Apple (Pyrus Malus) ,Watermelon Rind (Citrullus Vulgaris), and Lentil (Lens Esculenta). Men's Oeosome's Eye Care Injection contains Acqua Cell.

Ceramide III consists of molecules identical to skin cells. These molecules are made using a patented biofermentation procedure. Ceramide III's molecules form a protective barrier against moisture loss in the skin, improving hydration for up to six days after the last application. Pure Perfection 100 N®'s Liquid Surgery Serum contains Ceramide III.

Medical Beauty Research cosmetic and skincare products cater to the selective customer. Only the best facial care products and ingredients will provide long-lasting results. There's no short cut to the fountain of youth, but Medical Beauty Research anti-aging skincare products will help you develop tighter, more radiant skin faster.

Regain collagen and skin elasticity with Medical Beauty Research skin care products. You can only find MBR products & skincare treatments from select medical aesthetic providers. Call us today to learn more!