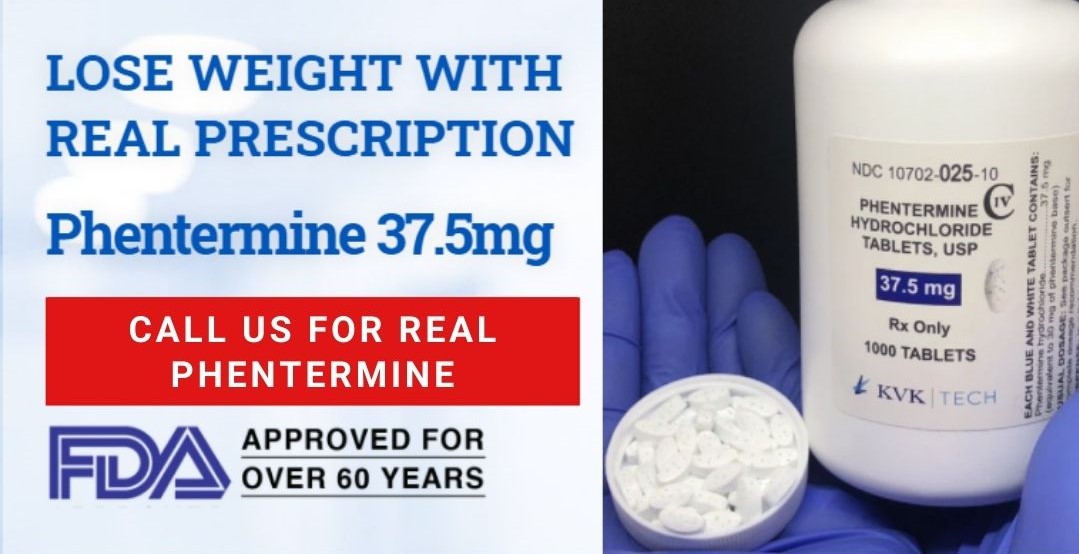 Millions of us struggle to lose weight despite our best efforts with diet and lifestyle changes. Phentermine medications are the weight loss solution you've been seeking to get the results you want.  You can keep your cravings in check and see proven results for short-term weight loss with Phentermine medication.
What Are Phentermine Weight Loss Pills?
Discover one of America's most popular weight loss products.
Losing weight is an everyday struggle for many of us. A healthy diet and regular exercise alone can't achieve significant weight loss results. Phentermine (Adipex-P, Lomaira) is an FDA-approved medication used to suppress appetite and aid weight loss effectively.
Phentermine weight loss pills help you lose weight by decreasing your hunger or making you feel full longer. Phentermine targets underlying issues such as overeating and works to suppress your appetite. The results are impressive. See for yourself how much easier it is to lose weight with Phentermine pills instead of lifestyle changes alone.
You can see results in less than 12 weeks!
Benefits of Phentermine Weight Loss Medication
5-10% reduction in body weight
Decreased appetite
Avoid overeating
Feel fuller for longer
Decrease waist circumference
Improve insulin sensitivity
Assist in blood sugar control
Favorable effects on triglyceride
Improved cholesterol levels
With Phentermine, you'll see results fast.
You can get results with Phentermine when traditional weight loss methods alone have not worked.
Phentermine Weight Loss Treatment In Los Angeles
Book a consultation at our Phentermine weight loss clinic. Discover a safe and effective way to manage your weight loss.
How Does Phentermine Work?
Phentermine is prescribed as part of an overall weight-loss plan. It should be used in conjunction with exercise and healthy eating. Phentermine pills can successfully help you lose weight when diet and exercise alone have not been successful.
When we overeat, we store excess calories as fat, and we gain weight. As we exercise, we burn more calories, and when we eat fewer calories, we lose weight. Traditional diet and weight loss treatments can be restrictive and difficult to follow. Diets often leave you feeling hungry and unsatisfied. Unless the root feelings of hunger are regulated, we can be vulnerable to temptation. Prescription Phentermine can help with stubborn weight. By suppressing your appetite and desire to overeat, your weight loss efforts are more successful.
Where can I find Phentermine Weight Loss Clinic Near Me?
If you are looking for phentermine doctors near me, you have come to the right place. Our phentermine weight loss clinics is centrally located on Ventura Blvd between Coldwater and Laurel Canyon. Contact My Botox LA to make an appointment for a consultation. You can not get phentermine 37.5 over the counter, you will need a prescription from a phentermine clinic to buy phentermine medication near you.
How Much Weight Can You Lose With Phentermine?
Just how effective is Phentermine? Clinical studies show that Phentermine can boost fat loss. You can lose an average of 5% of your initial body weight. When used over 12 weeks, overweight or obese patients can see even more significant weight loss results. Patients can lose up to 10% of their initial body weight.
Phentermine Weight Loss FAQs
Are you a suitable candidate for this weight loss medication? Read about some of the common FAQs about this medication and get Phentermine info.
Are there any side effects of phentermine?
Mild side effects have been reported from this weight loss product. Side effect phentermine symptoms may include:
Increased heart rate
Tingling feeling in the hands or feet
Nervousness
Dry mouth
Sleeplessness
Constipation
Who should not take Phentermine?
Phentermine appetite suppressants are not suitable for you if you have any of the following conditions. You are pregnant, breastfeeding, have heart disease, high blood pressure, glaucoma, or an overactive thyroid gland.
Does Phentermine burn fat?
Phentermine is a popular prescription weight loss pill. This weight-loss treatment works as an appetite suppressant to aid healthy eating habits. Phentermine medication itself does not burn fat. It does not directly affect your metabolism. Phentermine is prescribed as a weight loss aid designed for use alongside a healthy diet and exercise.
Is Phentermine Safe?
Phentermine is a commonly prescribed weight loss medication. It has been FDA approved and used in America for many decades and is a safe and effective weight loss medication. Generic Phentermine is safe when used for a short-term period. Phentermine weight loss pills should only be used by individuals who have none of the medical issues which are advised to avoid this medication. Studies show that the appetite suppressant phentermine can significantly reduce a patient's weight without causing other heart problems.
How effective is Phentermine?
Phentermine can be a very effective weight loss solution when used as directed alongside other diets, exercise, and lifestyle changes. Generally, the expected weight loss from phentermine is around 5% of your initial body weight when you first start taking the medication.
How long does Phentermine stay in your system?
Phentermine can be detected in a urine test between one to four days after you have taken the medication. Patients are advised to take phentermine pills a week before they need to do a drug urine test. Phentermine should not be taken recreationally and is a prescription medication. When used appropriately, doctors can provide a medical record as required.
Some people may build up a tolerance to the Phentermine appetite-suppressing effects after prolonged use. In this situation, your doctor may advise that you stop the diet pill phentermine altogether.
How long does it take Phentermine to work?
Phentermine starts to work very quickly after taking an initial dose. Phentermine medication gets absorbed through your gastrointestinal tract. It will reach its peak concentrations in your blood after three to 4.4 hours. You should start feeling the effects in around four hours.
Phentermine how much weight will I lose in a week?
Many Los Angeles patients wonder how many pounds you can lose per week after your visit to our phentermine clinic. There is no concrete answer to this question. The weight loss you can expect from Phentermine will differ from one individual to another.
Your weekly weight loss will depend on your lifestyle, diet and exercise, and other lifestyle changes. For many patients, results can be seen quickly, and it's possible to lose several pounds in your first week of taking weight loss pills prescription phentermine. However, the recommended safe rate of weight loss on phentermine is between one and two pounds weekly. Losing weight with weight loss medications slowly and steadily ensures you lose excess fat and not muscle.
How long does Phentermine last?
Phentermine appetite suppressants are intended for short-term use only. Taking larger amounts of this medication will not make it more effective in aiding weight loss. Extended or excessive use of prescription phentermine can cause serious side effects. The effects of Phentermine appetite suppression pills may wear off after a few weeks of use.
Phentermine over the counter?
There is no such thing as phentermine over the counter. Phentermine is a prescriptions strength medicine that can only be prescribed by a medical professional after checking your vitals. The over the counter phentermine you may see online also knows as otc phentermine is actually "Phenemine" or something similarly named to make you think is Phentermine but its not!
Prescription strength Phentermine weight loss pills are available in different doses, 15 mg phentermine capsules, 30 mg phentermine capsules, and phentermine 37.5 pills. We prescribe phentermine 37.5 pills intended for use in combination with diet and exercise.
What special dietary instructions should I follow?
When using phentermine you should also follow a diet and exercise program advised by your doctor. Phentermine works best and achieves the best weight loss results when used in combination with a healthy diet and exercise program.
How Do I Use Phentermine?
To use Phentermine you should take one dose every day, usually in the morning around half an hour before you eat your first meal. Avoid taking phentermine OTC pills in the afternoon or evenings, as they can cause sleep issues. At our phentermine weight loss clinics near me we will provice you with prescription instructions and take the pills only as long as instructed. You should come in every month to see our phentermine dr or nurse to get your vitals checked and get a refill of phentermine hydrochloride for the month.
What Should I Do If I Miss My Dose?
If you miss one of your otc phentermine doses you should not try to adjust and take a larger dose. You should instead begin your next dose at the scheduled time.
Ready to beat the bulge? You can visit our phentermine weight loss clinic and get the help you need to lose weight once and for all!
Find out if Phentermine for weight loss treatment is right for you! Visit one of our phentermine clinics.
Find out if Phentermine for weight loss treatment is right for you!