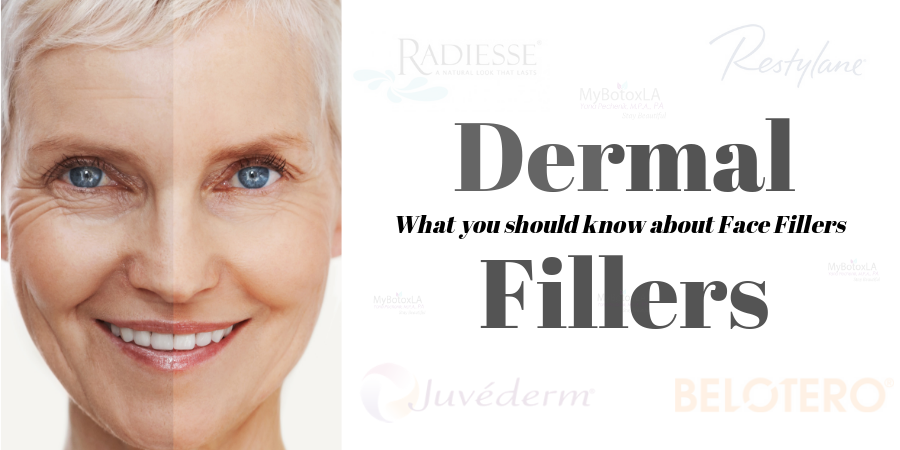 What are dermal fillers? At My Botox LA Med Spa in Studio City we have clients from all over Los Angeles who want to know which facial filler is best? How long do under eye fillers last? How much do dermal fillers cost?
Like many men and women in Los Angeles who want to stay looking younger and fresher, it's natural to want to look your best at any age. Luckily, having face fillers is a small and discreet treatment which can help you to look beautiful.
If you're thinking about getting filler injections and want to know more about this effective procedure, read our guide on dermal fillers.
Here, you'll find everything you need to know about skin fillers.
What are face fillers?
Filler injections are one of the most popular cosmetic procedures in California. Dermal fillers are facial injections placed under the skin to plump, smooth fine lines, and soften creasing. Facial fillers can also be used to contour the face, enhancing your cheekbones and jawline.
If you want to rejuvenate your face without experiencing any downtime, facial fillers are the best treatment to have.
Dermal fillers are commonly used on wrinkles. As you age, collagen and elastin production slows down, causing your skin to become prone to sagging, fines lines, and wrinkles.
What are dermal fillers made with?
Dermal fillers are made with a range of FDA approved products. At My Botox LA Med Spa, we use Juvéderm, Restylane, Radiesse, and Belotero.
Juvéderm, Restylane and Belotero contain hyaluronic acid. Hyaluronic acid is a substance which naturally occurs in your skin, helping to keep it plump and hydrated. Skin fillers made with hyaluronic acid have a gel like appearance and they may use lidocaine to reduce any discomfort during or after your treatment.
Radiesse is made with calcium hydroxylapatite, another substance which naturally occurs in the body. Calcium hydroxylapatite is found in the bones, but it's used in skin fillers alongside a smooth gel. Radiesse has a thicker consistency than hyaluronic acid facial fillers, and they last longer too.
Dysport is a skin filler containing Botulinum toxin type A. It works similar to Botox in promoting a temporary reduction in your muscle activity.
The type of derma filler you choose will depend on your skin issues.
Which Dermal filler do I need?
It can be challenging to know which derma filler you need. At My Botox LA Med Spa, we give all our clients the very best advice to help you select the most effective facial filler for your skin issues.
Different face filler injections work better in varying places. My Botox LA Med Spa will determine which filler is best for you during your consultation.
Generally, we use the following:
Juvéderm – soften areas around the mouth, chin, and under the eyes. It is also popular to plump the lips.
Restylane – soften lines around the nose, mouth, chin, and undereye area. Additionally, Restylane can lift and plump the cheeks.
Radiesse – Rejuvenate the hands, smooth lines around the nose and chin.
Belotero – Smooth areas around the nose, mouth, and chin.
How do smile lines fillers work?
Fillers for smile lines are injected directly along the crease, from the nose to the side of the mouth. Any smile lines fillers work to smooth these wrinkles and add volume, so your face looks naturally beautiful.
You may be wondering if dermal fillers will work on severe smile lines? The good news is that they do. We can use a treatment like Juvéderm Ultra Plus XC to inject deeper into the skin for extra volume.
How long do filler injections last?
How long filler injections last depend on the type of derma filler you receive. Hyaluronic acid facial fillers like Juvéderm last between 6 to 12 months. After this time, your body naturally absorbs the filler, and you'll require a top-up.
Calcium hydroxylapatite (Radiesse) skin fillers last at least 12 months. Dysport facial injections, which use Botulinum toxin type A, typically last up to 4 months.
How long do under eye fillers last?
Under eye fillers tend to last between six to twelve months. If you're being treated with a hyaluronic acid filler, the amount of time it lasts depends on how long your body metabolizes it. Derma fillers under the eyes can help to alleviate dark circles and fine lines to make you look more youthful.
How much do dermal fillers cost?
The price of your derma filler treatment depends on the type of injection used, and the areas of treatment. My Botox LA Med Spa offer a no obligation consultation, so you can discover the precise cost before booking a treatment.
Are there any side effects of derma fillers?
If you're considering face fillers, it's important to know any potential side effects which could possibly occur.
Common side effects may include:
Bruising
Swelling
Redness
Itching
Pain
It's natural to have one or more of these side effects after treatment. However, they normally subside after a few days.
It's essential to use a safe and reputable clinic like My Botox LA Med Spa for your derma filler treatment. Never be tempted to purchase fillers online as these may cause dangerous side effects.
Dermal fillers are not suitable for anyone who is under 18, pregnant or breastfeeding. If you feel you may be allergic to any of the ingredients used within face fillers, please book a consultation with us and we can advise you correctly.
Use Our Dermal Fillers Guide to Prepare You for Your First Treatment
Are you considering dermal fillers? Come and see us at My Botox LA Med Spa. You only need one derma filler procedure to witness visible results. You'll be amazed at how youthful you look afterwards!
My Botox LA Med Spa is situated in Studio City. Schedule a consultation today and we'll discuss any other questions you may have.