Struggling with wrinkles and fine lines? Tired of spending money on anti-aging creams that have little or no results? In this case, you might consider using dermal fillers.
These facial treatments help plump up your skin and restore its youthful appearance without the risks or downtime associated with a traditional facelift. The results are immediate and last for months.
Each year, millions of men and women request dermal fillers to slow down aging and erase its signs. In 2018, more than 2.69 million procedures have been performed in the U.S. alone. Also referred to as a "lunchtime facelift," this treatment is quick, convenient, and safe.
But what exactly are dermal fillers and how do they work? Let's find out!
Dermal Fillers at a Glance
As you age, your skin loses volume and begins to sag. Poor nutrition, stress, sleep deprivation, smoking, and other lifestyle factors can speed up this process. Exposure to sunlight, for instance, accounts for over 80 percent of skin aging.
Over time, you might notice wrinkles, fine lines, dark spots, and bags under the eyes. If left unaddressed, these issues can worsen and affect your looks as well as your self-confidence. Luckily, there are ways to slow down aging and improve your complexion.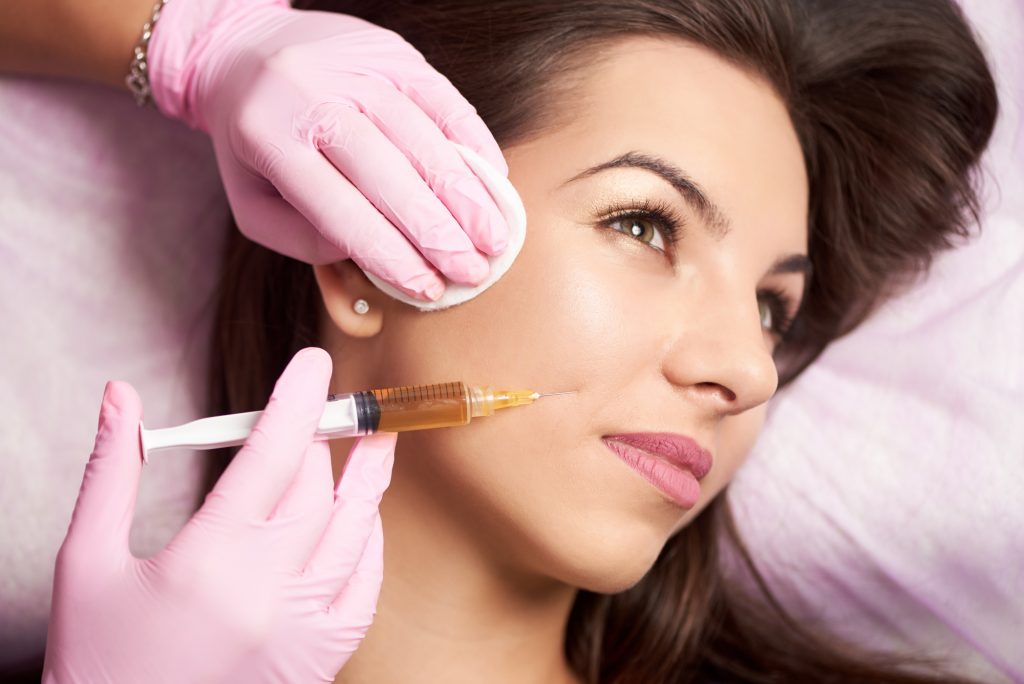 Dermal fillers have emerged as a safe, effective solution for those who wish to look and feel younger. Compared to a traditional facelift, these injectable treatments carry fewer risks and provide subtle results. Their role is to naturally restore your skin's appearance by filling in facial wrinkles.
This sought-after rejuvenation procedure uses hyaluronic acid to diminish the signs of aging and add volume to your skin. Its effects last from a few months to more than a year.
Depending on your needs and preferences, you can opt for permanent, semi-permanent, or temporary fillers.
Permanent dermal fillers remain in your system for two or more years. If you choose a semi-permanent filler, the results will last for one to two years. With temporary fillers, you can expect to see noticeable improvements in your skin's appearance for up to one year.
There are various types of fillers available on the market, and each has unique properties.
Juvederm Vollure XC, for example, adds volume to the laugh lines and fills in moderate to severe wrinkles. Juvederm Volbella XC will make your lips look fuller and smoothen the lines around your mouth.
How Do Facial Fillers Work?
This anti-aging treatment involves injecting hyaluronic acid into your lips, cheeks, forehead, and other areas. The injection can be performed anytime–even during lunch break–and offers instant, natural-looking results.
Hyaluronic acid, the primary compound in dermal fillers, occurs naturally in your body. As time goes by, its levels drop. This leads to the formation of wrinkles and fine lines.
The FDA has approved this substance for various uses in medicine, such as cataract removal. In the beauty industry, it's used as an anti-aging agent, lip filler, and moisturizer.
Not all dermal fillers are based on hyaluronic acid. Some use bovine- or human-derived collagen, calcium hydroxylapatite, and other compounds to minimize the signs of aging. Plastic surgeons may also add lidocaine to reduce pain at the site of injection.
Sometimes, dermal fillers are combined with botox. This option can help balance your facial features and correct imperfections. It also reduces the appearance of wrinkles and rejuvenates your complexion.
Dermal Fillers vs. Botox: What's the Difference?
Contrary to popular belief, botox and dermal fillers are not one and the same. Even though they're both used as an anti-aging treatment, they have distinctive properties.
Botox is made from a bacterium and works by relaxing the muscles. It's commonly used to treat migraines, excessive sweating, dynamic wrinkles, and certain neurological disorders. This substance works well for crow's feet, marionette lines, frown lines, forehead wrinkles and more.
Dermal fillers, by comparison, help plump up the cheeks or lips. They can also reduce the wrinkles under your eyes, fill in shallow areas on your face, and stimulate collagen production. Their effects are more natural looking and longer lasting than those from Botox.
Both treatments are effective against the signs of aging. Choosing one over another comes down to your needs. A plastic surgeon can assess your skin's appearance and help you make an informed decision.
Are There Any Risks Involved?
Like everything else, dermal fillers have their drawbacks. However, the side effects are minimal and usually go away within hours or days. These may include:
Allergic reactions
Itching
Redness
Bruising
Pain
Tenderness
Mild swelling
It's completely normal to experience some comfort at the site of injection. Complications are rare and unlikely to occur unless you have an autoimmune condition or allergies to the ingredients used.
Who Can Benefit from Dermal Fillers?
This anti-aging treatment is recommended for men and women over the age of 21. Most people won't be able to tell what you had done. They will only notice that you look younger and more radiant.
Dermal fillers boost the levels of collagen and hyaluronic acid in your body, leading to healthier skin. A single injection can reduce sagging and wrinkling, restore fullness, and enhance your facial contour.
Doctors may also recommend fillers for sunken eyes, postsurgical scars, acne scars, atrophic earlobes, and certain dermatological conditions. These products are used for lip augmentation as well. Patients generally experience improved confidence and self-esteem.
With this treatment, you can finally stop feeling self-conscious about your wrinkles. Plus, you can resume your activities right away. There's no need to spend time at the clinic or take a few days off work.
Restore Your Skin's Youthful Appearance
As you see, dermal fillers are a safe, convenient option and have little or no side effects. Even if you have no visible wrinkles, you can still benefit from this treatment. Due to its collagen-boosting properties, it helps delay aging and keeps your skin young until late in life.
Still not sure whether or not facial fillers are right for you? Check out before and after photos of our patients! The results are quite amazing.
For more information, contact us today! Our team is ready to answer your questions and recommend an anti-aging treatment that best suits your needs.