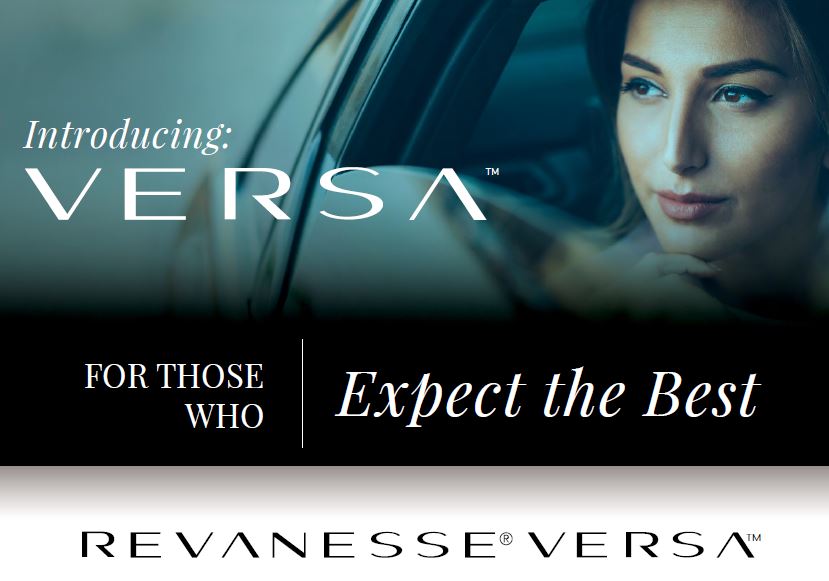 REVANESSE VERSA FILLER: ARE YOU LOOKING FOR A NEW COSMETIC PROCEDURE TO LOOK YOUNGER AND FRESHER? SAY HELLO TO REVANESSE VERSA!
How much does Revanesse Versa cost? What are the benefits of Revanesse Versa filler. If you hoping to discover more information on this Versa filler, you're in the right place!
What is Revanesse Versa?
Revanesse Versa is a hyaluronic acid injectable filler which enhances hydration, and improves volume to soften lines and wrinkles.
It can also be known as Revanesse Ultra to treat deep set wrinkles, and used as an alternative to Botox treatment. Revanesse Kiss volumizes lips, while Revanesse Contour sculpts and smooths your face.
Revanesse Versa filler delivers a youthful glow so you look fresher and revitalized.
How Does Revanesse Versa Filler Work?
Hyaluronic acid naturally occurs within your body, helping to improve hydration levels. As you grow older, natural hyaluronic acid production decreases, causing your skin to become drier. Coupled with reduced collagen and elastin levels, fine lines and wrinkles are more pronounced.
Revanesse Versa contains high quality hyaluronic acid. Its formulation features very small, perfectly formed hyaluronic acid spheres to deliver maximum absorption into your skin.
Additionally, it's manufactured in the USA in small batches to ensure premium quality. Each syringe is hand checked for maximum safety.
Using hyaluronic acid injections increases hydration to lift and firm your appearance. Areas of sagging, including lines and wrinkles, appear smooth and soft. Revanesse Versa even softens severe creases, for a youthful, dewy glow.
Unlike hyaluronic acid creams which only target the surface of your skin, Revanesse Versa is injected via a microneedle at the point of skin concerns and it can be used in most facial areas to rejuvenate your appearance.
Unlike a topical treatment, this injectable gives you immediate results. You won't require any downtime either, so you don't need to worry about having to take time out of your busy day.
How Does Revanesse Versa Differ from Juvéderm?
Revanesse appears more natural than other cosmetic fillers, breaking down slower than Juvéderm.
Additionally, Revanesse is easier to shape, thanks to the size consistency of its hyaluronic acid particles.
Both Revanesse and Juvéderm can last up to 12 months, but if you're looking for super natural results, Revanesse may be the best option for you.
What are The Benefits of Revanesse Versa Filler?
Benefits of this filler include:
Can treat most areas of the face
Immediate results
Feels more natural
Easy to shape
Less swelling
No downtime required
No surgery required
Minimally invasive
Lasts up to 12 months due to breaking down gradually
FDA approved
Superior quality hyaluronic acid
Minimal side effects
Free from animal products
Should I Have Revanesse Versa Filler Treatment?
If you're healthy, 21 years old or older, and are searching for a natural way to enhance your appearance, Revanesse Verse may be perfect for you.
Revanesse can be used to:
Smooth deep set lines and wrinkles
Define your nose bridge
Eliminate under eye circles and bags
Smooth lip lines
Smooth smile lines
Volumize and sculpt your face
Volumize lips
Contour your chin and jaw
We can discuss your options during your consultation in our Los Angeles Medical Spa. Book you consultation with My Botox LA Med Spa.
How Much Does Revanesse Versa Cost?
You may be wondering 'what does revanesse versa cost?' During your initial consultation we'll discuss your treatment and its cost of versa filler. We offer a no obligation consultation so you know the exact cost before making a booking.
What Do Los Angeles customer say about Versa Revanesse.
Revanesse Versa customer feedback is largely positive. Many people find Revanesse filler provides natural looking results, helping them to look younger. Results are immediate, with many noticing a visible improvement just two hours after treatment.
Even six months after your procedure, fading is barely visible so you can enjoy the natural effects of Revanesse Versa filler for optimal time.
Is Revanesse Versa Safe?
Versa Filler is FDA approved, with minimal side effects. It's also been designed for maximum safety. In three clinical trials of over 300 participants, no serious adverse side effects were noted.
However, you should not have this type of filler treatment if you:
Are pregnant or breastfeeding
Have scarring where you wish to be treated
Have rosacea, psoriasis or severe acne
Have a history of severe allergic reactions
Are allergic to hyaluronic acid
Are allergic to natural rubber latex
Have a history of keloid formation
Common side effects include:
Bruising
Swelling
Slight bleeding
Discomfort
Itching
While it's natural for one or more of these side effects to occur after your procedure, they usually subside after a few days.
If you're worried about using any type of filler injection, please contact us and we can advise you.
Using a reputable clinic like MyBotoxLa ensures a safe treatment is being carried out. Purchasing filler injections online is dangerous, potentially leading to harmful side effects.
Make Revanesse Versa Your Next Treatment
This filler treatment in our Los Angeles medical spa is a relatively quick process, that helps your skin appear firmer and plumper. Our wealth of experience in providing medi-spa procedures ensures you have a safe and speedy treatment. My Botox LA Med Spa is located in Studio City, Los Angeles. If you have any questions, do not hesitate to contact us.