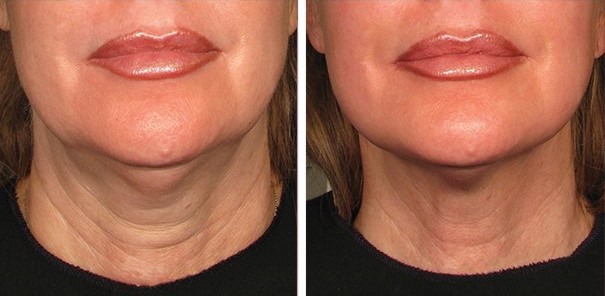 Los Angeles patients often ask, what is the best way to treat a turkey neck?  What causes turkey neck? and Can you tighten neck skin without surgery?
As you grow older, sagging, wrinkling skin on your neck is something that just seems to appear without any warning. Even if you've been religiously applying moisturizer and SPF, the look of a turkey neck can be extremely frustrating.
The good news is that there is something to help tighten neck skin. At My Botox LA Med Spa, we see a multitude of patients who are searching for an effective resolution to saggy neck skin without surgery.
So, what actually causes a turkey neck, and how can you tighten loose neck skin? Here is everything you need to know about treating a saggy neck.
What causes a turkey neck appearance?
Before we explore how to tighten your neck, let's look at what causes turkey neck skin in both women and men. As a normal part of the aging process, elastin in the skin begins to decline.
You may have heard of elasticity, but if not, here's a brief overview. Simply put, elastin is similar to collagen in that it is a key protein found in connective tissues of the skin, as well as throughout the body.
As it helps to support the structure of your skin, when levels of elastin decline, they cause the skin to lose support, and begin to sag. Alongside the weakening of muscles, saggy neck skin gradually occurs. This excess skin on neck resembles the neck of a turkey, which is why it's commonly known as a 'turkey neck'.
Another reason a saggy neck appears is when you lose a lot of weight. Major weight loss, either through diet or exercise, can result in excess skin all over the body. This can vary, depending on other factors, such as genetics and lifestyle habits. But, if you've previously had excess weight around the face and neck, this area may start sagging once weight loss has taken place.
So, now we know why loose skin on necks occur, let's take a look at turkey neck treatments available.
How to tighten neck skin without surgery?
Can you tighten neck skin without surgical procedures? It really depends on how much loose neck skin you have.
If you're searching for ways on how to get rid of turkey neck using natural methods, here's a good place to start. There are one or two things you can do to help increase firmness around the neck and under the chin.
Here are a few options:
Collagen supplementation – this helps to increase collagen levels to aid the thickening and strengthening of the skin.
Topical treatments – firming creams, collagen serums, and anti-aging neck creams can assist in helping to firm visible signs of aging, including a saggy neck and fine lines.
Electrical devices – a neck toning electrical device uses small pulses of electricity to exercise the neck muscles. This helps to strengthen and improve muscle tone, potentially improving the appearance of loose neck skin.
Neck exercises – stretching and exercising your neck muscles can improve tautness. Some of the most effective moves are facial yoga.
Facial rollers – you may be familiar with jade rollers or facial rollers. While these are mainly used to encourage circulation and eliminate puffiness on the face, they can also be used to lift the skin around the neck. For best results, aim to roll your saggy neck skin once per day to help rejuvenate neck muscles.
These turkey neck treatments are ideal for those with minimal excess neck skin. However, if you're neck has a more severe loose skin appearance, you'll probably require something more effective.
Ultherapy is a reliable option for treating a turkey neck, without using invasive techniques. Let's learn more about this effective procedure.
How to get rid of turkey neck with Ultherapy
Treating your sagging neck skin with a cosmetic procedure can be daunting. But, at My Botox LA Med Spa we are able to lift and firm your neck area with a non-surgical option called Ultherapy.
What is Ultherapy? This non-invasive treatment enhances your look without using toxins or needles. First, a gel is applied to the skin on the neck. Then, an ultrasound applicator is placed over the top, emitting ultrasound energy to even the deepest layers of your skin. This helps to stimulate collagen and elastin production to naturally tighten and lift the skin around the neck.
As Ultherapy transmits the correct amount of energy at optimal temperature, you can be sure of visibly effective results, including smoother, and lifted skin.
A typical session of Ultherapy can take around 60 minutes, which kick-starts the collagen and elastic regeneration process.
You'll notice results from this safe procedure for up to 12 months afterwards.  Our expert staff are trained to ensure maximum results are achieved in every patient.
As Ultherapy is not invasive, no downtime is required so you can go straight back to your regular routine without having to take time out to recover. Just check out these amazing Ultherapy Before and After results!
Start the journey to tighten neck skin today!
Now that you've learnt how to get rid of turkey neck without surgery, schedule your no-obligation consultation at My Botox LA Med Spa in Los Angeles. We can't wait to meet you and make you feel beautiful.