Are you interested in a facelift? Do you want to avoid serious cosmetic surgery to make changes to your current appearance?
You're not alone. For more than 8 years, we have been helping our patients get the perfect facelift without surgery! We offer many non invasive options and are ready to help you understand how, including Ultherapy facelifts in Los Angeles.
Our expert team is knowledgeable about the latest treatment options. Our patients keep coming back because of how natural and successful our treatments can be.  Trust our expertise to help you get the liquid facelift that you've only dreamed of.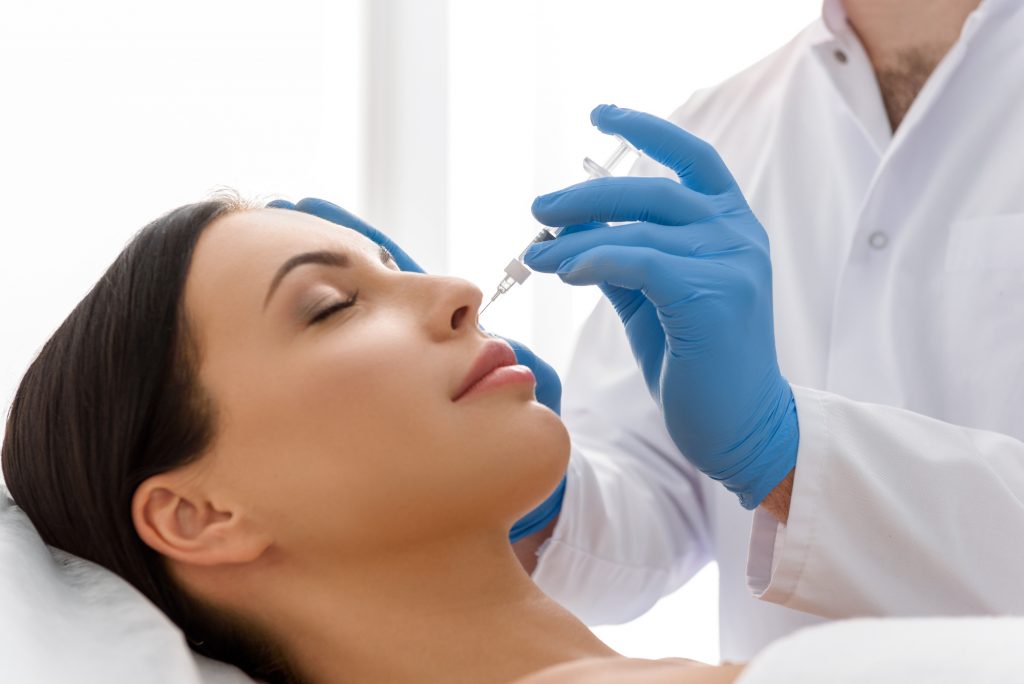 We want you to be happy with your appearance, and we are ready to help you decide which treatments will get you exactly what you want.
We have outfitted our office to be as comfortable and welcoming as possible. This clean, bright space is set up in a way that you can enjoy your experience. If you have any questions before or after your procedure, our customer service is available via phone, text, or email at any time.
No matter what, we want to help you get amazing results that look as natural as possible.
What is a Non Surgical FaceLift?
In the past, face lifting was always done with invasive procedures that could leave behind scarring and took a longer period to recover from. As the non invasive industry has grown, you now have the option to get a no surgery facelift.
This type of facelift is often called a liquid facelift. It uses a series of fillers in very specific areas to help you achieve a smooth, tightened, and lifted appearance.
The specific fillers used during non surgical face lifts depend on which areas of the face you want to improve appearance of.
Why Fillers Work
Understanding why fillers work rather than turning to surgical cosmetic procedures is important. As we age, our skin loses much of the elasticity and moisture that it once had. This causes sagging, shadows, and other changes that patients do not like.
The face fillers target the reversal of those symptoms. Where you have shadows, we will plump the skin so that it looks smooth and hydrated. Where you have lines, we will use injections which minimize the appearance and smooth the surface.
Cosmetic Procedures For FaceLift Without Surgery
Let's learn more about the areas that we offer injectables to improve & what they can do for you:
Neck Lift Without Surgery:
The goal of using fillers along the jawline is to create definition. This definition has been lost over the years as jowls formed and grew bigger, but a non surgical chin lift can re-define your jawline.
Do you want to see natural neck tightening without surgery? A powerful injectable such as Radiesse may be the best treatment for jowls sagging. We would choose a specific product depending on what you want out of your no surgery jowl lift.
Jaw contouring with Botox can help correct the appearance of saggy jowls. Targeted jaw line treatments can help to contour your face and reverse the appearance of aging in no time. With the use of botox and other similar injectables, we can help you achieve a non surgical chin lift.
A neck lift without surgery can also be achieved using Ultherapy.
Face Tightening Procedures:
The goal of using liquid botox injections is to smooth out lines, plump the skin, and help you look revitalized. With a targeted liquid facelift plan, we can do just that.
Some of the face injections that we offer are great for face tightening. When you try our fillers for face treatments like Juvederm, you can get the plump, smooth skin that you dream of having.
We also offer Botox, Xeomin, Radiesse, and Belotero injections. Each of these injectables has a specific set of effects that can help tighten your skin.
Our experts will help you decide which product makes the most sense for your liquid facelift. That talent for creating the perfect treatment plan is why we are able to offer the best liquid facelift Sherman Oaks has ever seen!
Targeting Specific Wrinkles:
If you want to achieve the perfect facelift without surgery, we have to target wrinkles. For most people, wrinkles cause the most daily frustration.
Do you want the best treatment for marionette lines? Do you want to target crow's feet? We can focus our facelift plans to perfectly create the final appearance that you have dreamed of.
Common Questions About Liquid Face lifts
Through our 8 years of doing non surgical facelifts, Studio City patients have asked us many questions. It is always our goal to keep you informed about the procedures we do. So, we've put together a list of the most common questions we get about this type of facelift.
What is a Non Surgical Face Lift?
A non surgical facelift is a set of procedures which use injectable fillers such and Botox to give the skin a rejuvenated appearance. Depending on the particular set of fillers used, it will eliminate wrinkles, rehydrate skin, and redefine the jaw line.
How To Tighten Skin On Face Without Surgery?
Skin on the face becomes saggy because the cells are less elastic and cannot hold in as much moisture as they once did. Using fillers such as Juvederm or Restylane to plump the cells can give a natural tightening effect.
But what is the secret to knowing how to tighten sagging skin on face areas?
We'll tell you our secret. The secret is years of experience and many patients! We aim to work with our clients' goals. We want to use our array of products – from Botox to Radiesse to Dysport – to help them get the perfect appearance that they have always wanted.
If you've always dreamed of having the tight, youthful skin you once had, we can help you regain that bright and smooth appearance.
What Are The Best Non Surgical Wrinkle Treatment Options?
If wrinkles are your biggest worry, you'll be happy to hear this. We always ensure that our liquid face lift procedures smooth and reduce the appearance of all wrinkles in your trouble areas!
For example, we often suggest that our patients who want to remove crow's feet as part of their best natural face lift try Botox or Xeomin treatments. Those who want to focus on wrinkles around their mouth or jaw often find more success with Radiesse injections.
How Long Does a Facelift Last?
The liquid face lifts are done with a specific type of injectable or a series of injections. The exact products used depends on what you are hoping to achieve.
Each injectable that we use has a different time period for how long you can expect it to last. Generally speaking, you can expect the effects of a natural facelift done with Juvederm face fillers to last between 6 to 12 months. After that, you might want a supplemental procedure.
Can I Get a Jaw Reduction Without Surgery?
A true jaw reduction is not possible without surgery. Don't worry! That doesn't mean that you can't contour your jaw to be more attractive without surgery.
In fact, tightening up the jaw area is the number one way that you can improve the appearance of a saggy or otherwise unappealing jaw area. Do you want to change your jaw because it looks saggy or undefined?
If so, a natural jaw lift might be all you need. This noninvasive procedure uses filler products to tighten the neck area. This can also reduce the saggy appearance of jowls. The goal of this type of procedure is to redefine the jaw so that it looks younger, fresher, and more attractive.
What Does A Non Surgical Face Lift Cost?
Now that you know the benefits and results of traditional facelift alternatives, you might be wondering what it costs. We cannot give you an exact price at this time. Every procedure costs a different amount. The exact cost will depend on the number of treatments and the area of treatment.
We assure you that we will do everything that we can to find a cost-effective face lift solution that will work for you. With your budget in mind, we can help you plan a liquid facelift that will fit in with your desires.
If you're ready to make changes in your appearence, talk to us today about getting a liquid lift!