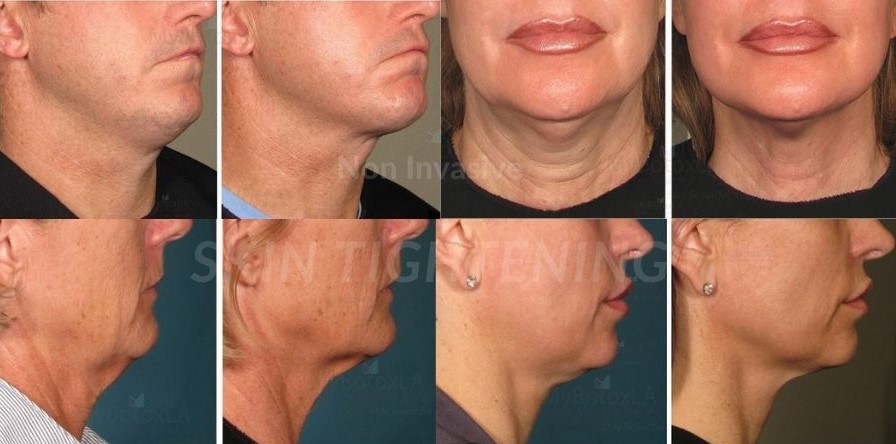 NON INVASIVE SKIN TIGHTENING TREATMENT HAVE BECOME THE LATEST CRAZE, BUT WHAT ARE THE BEST SKIN TIGHTENING TREATMENTS FOR LOOSE, SAGGING SKIN?
Many patients in Los Angeles struggle with loose sagging skin and that can affect their confidence. As they are often searching for the best solutions to appear younger and fresher, it's only natural that they express their desire to discover the answer to what is the best skin tightening procedure.
Loose skin, is something that most people have to deal with as we grow older. The good news is that we can do something about it! There are many non-surgical skin tightening procedures available for face and body.
Of course, treatments vary depending on your personal requirements. That's what we discuss when our patients enter our Los Angeles clinic for their initial consultation. However, as an overview today, here is what you need to know about what non invasive skin tightening treatments can do.
What is skin tightening?
If you're unfamiliar with the process of skin tightening, you may be conjuring up slightly extreme images in your mind. Don't worry. Skin tightening is essentially a skin firming treatment. Designed to provide an instant lifting effect, reduce visible signs of aging and loose skin.
There are many reasons as to why you may decide to undergo a tightening treatment on your face or body:
Natural signs of aging and loss of collagen and elastin
Excess weight loss
Post pregnancy
Genetics
Lack of exercise
Poor lifestyle or diet
So, how do you know which is the best tightening treatment to try? Do these procedures require surgery or are there non surgical skin tightening treatments to tighten skin?
What is the best skin tightening treatment?
There are a number of options to choose from, but the very best skin tightening treatment depends on the area of concern.
Skin tightening treatments for face and body include:
Topical face tightening treatments and body tightening creams
Laser
Radio frequency
Surgical face lift/body lift
Injectables
The best skin tightening procedure tend to be non-invasive yet highly effective treatments. Ultherapy is a non-surgical skin firming treatment which requires no downtime.
Let's look in more depth at the varying parts of the body where you may have loose, sagging skin to discover how Ultherapy works.
How to tighten neck skin without surgery
Neck lift without surgery is possible with Ultherapy. This non-surgical procedure delivers ultrasound energy to the deepest layers of the neck skin. This process stimulates the production of collagen and elastin – two natural building blocks of protein which decline as you grow older. The result is tighter, firmer skin with a diminished appearance of visible aging. So if you are wondering how to get rid of turkey neck without surgery,  Ultherapy skin tightening non invasive treatment may be the answer for you.
Skin tightening treatments for stomach
A non-surgical skin tightening stomach treatment like Ultherapy is a relatively painless way to lift and tighten this area of the body. Some clients prefer to choose Ultherapy over a traditional tummy tuck as they wish to avoid discomfort, potential scarring, and a period of recovery time.
Unlike a tummy tuck, clients undergoing an Ultherapy treatment may only observe a warm sensation once the ultrasound procedure starts, which is perfectly normal. A session can take up to 90 minutes on the stomach, although more than one session may be required depending on your individual requirements. An initial consultation will provide further details of whether this is necessary.
Usually, results are witnessed over a period of 2 to 3 months as collagen develops. However, you can expect to see enhancements up to 6 months afterwards.
Thigh skin tightening procedures
Tighten skin on legs procedures can help to firm the area around the thighs and knees. You may be considering a treatment if you have loose skin around your knees from aging, or if you have perhaps lost weight and wish to tone the thighs and legs.
Ultherapy is a non-surgical option which can deliver improvements for up to 6 months after the initial treatment. It works in the same way on the thighs as it does the stomach and neck in delivering ultrasound energy to stimulate collagen and elastin levels.
For body contouring purposes, this ultrasound energy helps to rejuvenate sagging, crepey skin, in addition to wrinkles and overall loss of firmness. Overall results will vary from patient to patient, especially as fat to muscle ratio differs between individuals. Ultimately, the depth at which the ultrasound energy is delivered is customized to each patients requirements.
How to tighten skin on face without surgery
Face tightening procedures are some of the most popular treatments at My Botox LA Med Spa in Los Angeles. Many of our patients are searching for face tightening treatments without having to undergo surgery or have injectables. In many cases, we suggest Ultherapy skin tightening to naturally firm and lift the face.
Unlike a face lift, Ultherapy has no downtime so you're free to go straight back to your daily schedule. The treatment provides a refreshed, radiant, youthful appearance, and it can also be used to lift sagging skin around the jaw area (jowls) as well as drooping brows.
An Ultherapy session on the face can last between 30 and 60 minutes. You may require more than one treatment, but you'll begin to notice optimal results around 2 to 3 months afterwards. You may even see visible enhancements up to 6 months after a session while collagen is still developing.
Use skin tightening to lift and firm
Now you've discovered the type of non invasive skin tightening treatments available, why don't you arrange a no-obligation consultation to discuss your areas of concern. Contact My Botox LA Med Spa medical spa in Los Angeles, we're here to guide you with a custom treatment plan so you can look and feel like a million bucks every day!