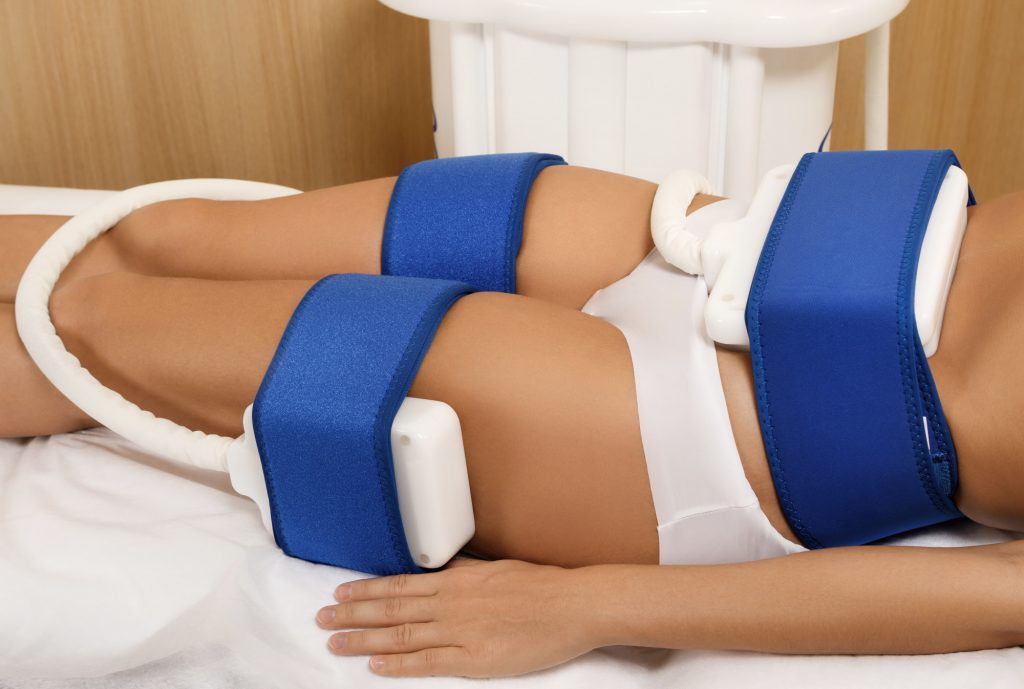 Whoever thought that fat freezing was a good thing…or even a thing at all? Find out if freezing your fat really works – and if you should try it yourself!
Over seven million all over the world have tried freezing fat off their bodies. And, it's worked. But, what does fat freezing actually mean? Is it a surgical treatment? Does it hurt?
It's actually a way to safely reduce the number of fat cells in a specific area of your body without surgery. No, it's not a "fast fix," it's so much more than that.
Here's the lowdown on what CoolSculpting is and how it works to provide you with the results you want.
What is Fat Freezing?
The medical name is actually cryolipolysis. The process cools down cells that allows them to die. Then, your body naturally flushes them out over time.
All cells have a natural lifecycle, and freezing fat is just a way to speed up their lifecycle inside of your body. CoolSculpting targets areas that have tough-to-lose fat cells and kills them off for you.
Because your body is great at disposing of the cells that you don't need anymore, it gets rid of the dead fat cells little by little after each treatment.
Your body excretes fat cells naturally when you do things like sweat and breathe. This means that fat freezing is just a way to speed up the process your body naturally goes through to get rid of fat.
What isn't fat freezing might be a better question to ask if you're considering this procedure.
It's not an easy way to lose weight. In fact, a qualified professional will tell you that it's not really a way to lose weight at all.
What you're doing is targeting fatty areas that you've worked hard to minimize but simply can't seem to get rid of. If you have tried diet and exercise and find the flab sticking around, then fat freezing is a great option.
Because it is hard to target train specific areas of your body, some people find that they can't get rid of a fatty area with diet and exercise alone. This is what fat freezing is for.
How Effective is Freezing Fat Cells?
CoolSculpting is FDA-cleared, so it's not only effective, but it's also safe.
During the procedure, a qualified physician's assistant will suction the skin around the area of fat that you want to remove. Then, the controlled cooling begins.
Like any type of cosmetic treatment, if you want to freeze the fat off your body, there are some people who are better candidates than others.
Typically, patients who have more success with CoolSculpting are people who need to only target smaller fatty deposits.
The effects tend to take a couple of weeks or even months to see. This is because your body is slowly processing the fat out of your system.
When it comes to the effectiveness of the treatment, it also depends on the area you are treating.
You can treat most areas, such as:
Lower back
Upper back (bra fat area)
Chest (particularly popular in men)
Inner thighs
Abdomen
Love handles
Chin
Again, the effectiveness of freezing the fat off your body will depend on where you're freezing it and how much fat you have. Some areas are easier to treat than others.
It's important to note that before and after freezing fat, it's crucial to maintain a healthy diet and exercise routine as part of a healthy lifestyle. This will help ensure that the effects of the CoolSculpting aren't diminished over time.
Liposuction is a valid, helpful procedure for those who need it. However, CoolSculpting has numerous benefits when it comes to patients who need small, localized fat reduction.
When it comes to CoolSculpting, patients tend to prefer it over liposuction because:
CoolSculpting is non-invasive
No need for anesthesia
No scarring because there are no incisions!
Cheaper costs
Perhaps the two biggest benefits of fat freezing vs. liposuction are the cost and the lack of time needed to recover.
Because the incisions for liposuction are usually only about ¼ of an inch wide, there isn't much scarring. However, due to the need for anesthesia, the recovery time is longer than that of fat freezing.
If you find that you need more fat removed or that your body requires a specific type of attention, then speak with your local cosmetic surgeon about liposuction. Oftentimes, patients opt for liposuction when they need to treat more than one area at once.
For example, a liposuction procedure is a great option for you if you've had bariatric surgery. A tummy tuck, on the other hand, is best for when you need to remove excess skin.
Freezing fat cells is for more localized trouble areas. It's also ideal for people who might not be able to have surgery due to certain risks.
In general, patients find that CoolSculpting is sufficient enough for their needs. The benefits far outweigh the risks associated with other procedures and the cost and recovery time alone are both enough to put it above the rest.
Freeze the Fat: A Walkthrough of the Procedure
Are you thinking that this treatment sounds right for you?
Here's what you can expect during a session of freezing fat cells:
The physician's assistant will put a gel pad over the treatment area
They'll put a cooling head on top of the pad
Suction will begin around the skin you're treating
The machine will begin to cool the area and freeze the fat cells
This lasts for an hour or two, depending on the treatment
They'll remove the cooling head and massage the area
That's it!
You might find that you experience slight discomfort, itchiness or soreness in the treated area. However, those are really the only known side effects, which is minimal compared to other fat reduction treatments.
Experts note that the skin around the treated area might remain red or slightly sensitive to the touch for 30 to 60 minutes after the treatment.
Most patients see results within a few weeks, but some can take up to 12 weeks to see the effects of CoolSculpting.
Likewise, most patients usually see their desired results after just one session. However, it's not uncommon for patients to follow up with further treatment in order to treat different areas or increase the effects of the first treatment.
It's not always necessary, though. One treatment can remove up to 25% of the fat cells in the place where you get the procedure.
Anybody Can Freeze Fat Cells
Well, just about anybody can freeze fat cells. This treatment isn't recommended for women who are pregnant or breastfeeding. It's also not recommended for people who need to target large areas of fat.
Aside from that, CoolSculpting is for just about anybody else.
Some clinics have had patients as old as 74 see benefits from a CoolSculpting procedure.
Due to its non-invasive nature, it works on people of all ages with all kinds of body types.
This treatment is great for busy LA moms who don't have time for a lengthy stay at a hospital. It's great for an executive who wants to hit the office in the afternoon after the procedure. It's even great for those who have lost a lot of weight and want to get rid of the fat cells forever.
When you lose weight, the fat cells get smaller but they never go away completely. This just isn't fair to those who have worked hard to improve their health and physique.
You deserve to look great and feel great, too.
Oh, and the sagging skin myth? It's just that, a myth.
Because fat freezing targets the fat cells themselves and not the skin, it doesn't traditionally lead to sagging skin. Your body will also get rid of the fat cells slowly over time, ensuring that your skin has enough time to adjust.
Ready to Start Your CoolSculpting Journey?
Fat freezing is safe, easy and effective. It's also a procedure that's ideal for pretty much any type of person.
This FDA-approved procedure is great for anybody who is looking to target small areas of fatty buildup on their bodies. It's also ideal for people who have lost a lot of weight and wants to get rid of the fat cells forever.
With little to no risks or side effects when it comes to CoolSculpting, there's really no reason not to give it a try. Consider it an investment into your health and confidence.
However, you'll want to ensure you're placing your trust in qualified health professionals who have experience with CoolSculpting.
This is why all of our physicians here at My Botox LA Med Spa have been trained in exactly how to provide our patients with high-quality care during the administration of fat freezing treatments.
If you're reading this and thinking that it sounds like something you could benefit from, then don't hesitate to contact us. Schedule your CoolSculpting consultation in Los Angeles today with one of our qualified healthcare professionals today.