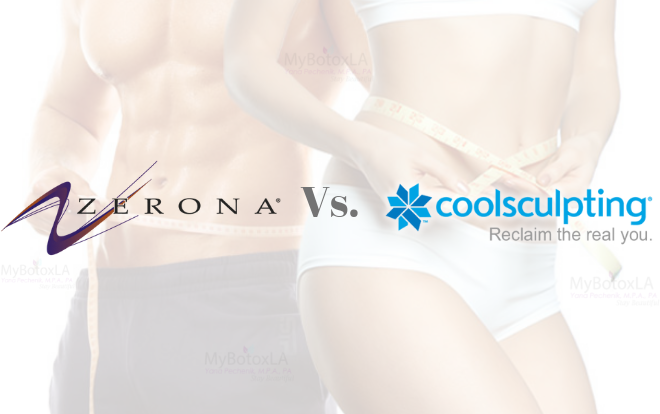 Zerona and Coolsculpting are some of the rising cosmetic treatments out there, each promising to kill fat for good. At our Los Angeles CoolSculpting clinic, My Botox LA Med Spa, we are often asked what the difference is between Zerona and Cold Body Sculpting.
These two treatments represent the competition between two fields of fat reduction: laser fat removal and Cryolipolis. This causes an ongoing debate on Zerona vs. Coolsculpting.
According to a recent survey, 4/5ths of the population want to improve their appearance. Are you a part of that statistic?
On top of that, the U.S. annually sees the execution of more than 10 million cosmetic procedures.
The American cosmetic scene has taken over, each trend giving people the chance to lose weight and change how they look. These aren't people who want to shed a few pounds and move on. People want the fat to stay gone.
What are these options? And which technique gets rid of fat permanently? Let's review.
What is Zerona?
There are many fat removal procedures out there. Many of them are considered invasive, meaning the doctor has to get underneath the skin to perform.
Invasive treatment can be both scary and expensive. That's why techniques like Zerona came to be.
Zerona is a laser lipo treatment designed to melt body fat.
For context, Laser Lipolysis became popular after studies showed it could result in tightened skin, reduced fat, and shorter recovery time.
This compares to general liposuction, which is invasive and requires extended recovery time.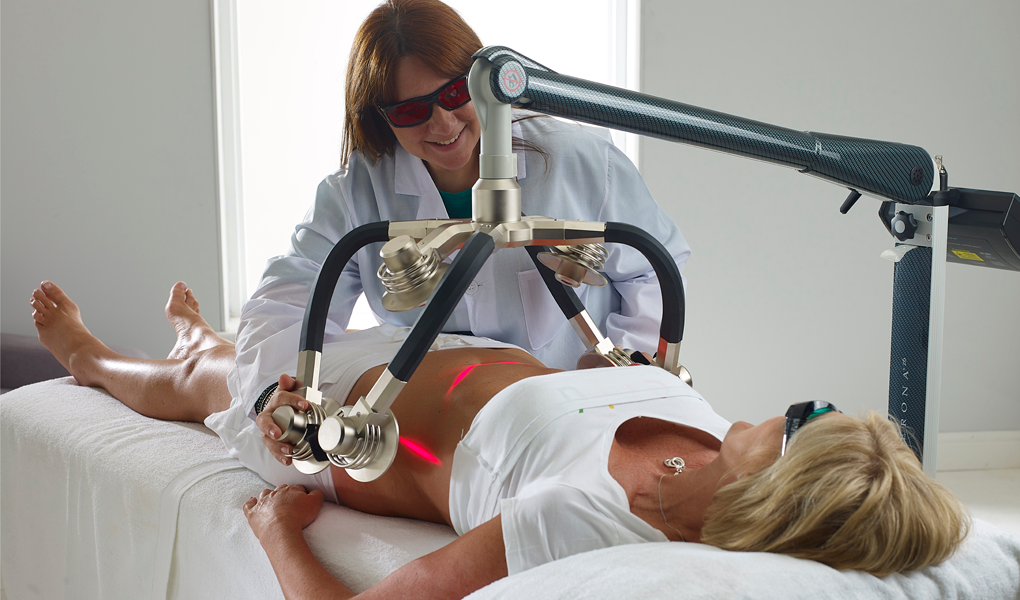 The Zerona Laser
For a while, low-level laser therapy (LLLT) was used to reduce body pain. People with skeletal issues, dermal pain, and undergoing physical therapy turned to the low-level laser.
Now LLLT is used as an alternative to liposuction. Zerona uses a low-level laser called Cold Laser Therapy.
This means the laser is nonthermal and will not burn the tissue surrounding fat.
How Does Zerona Work?
These low-level lasers are used to target and melt away body fat. The lasers often focus on many parts of a patients body, breaking away fat cells from their center.
The process divides the fat cells, causing them to separate from the collected fatty tissue form. This results in temporary tightened skin and weight loss.
This process does not kill fat cells. It only disrupts them.
Zerona's fat cell disruption takes advantage of cell weakness. Each fat cell can be separated from the neighboring skin cells that you want to keep.
But, because of this technique, these cells can persist, and grow back.
Unless Zerona patients know these facts, they are unaware most treatments have to be repeated.
The treatment is repeated over five times, every other day, for at least two weeks.
Will Zerona Help Me Lose Weight?
Many researchers believe Zerona isn't effective at longlasting fat reduction. On top of this, not all fat can be removed from treatment.
In fact, because Zerona does not kill fat cells many of the same cells may return. This means that target areas may return to their original state.
Other studies have found that Zerona is an effective short-term solution to weight loss. One of the biggest attractors to the procedure is that Zerona is a painless alternative to other forms of weight loss treatment.
The conclusion?
Even though people have reported reduced fat, Zerona is not proven to reduce fat permanently.
This begs the question: Do you want to a short-term fix, or do you want a long-term result?
The Coolsculpting Process
Before you begin Coolsculpting, you will be asked about your weight loss goals. Do you have specific problem areas? How much weight do you plan on losing?
Once your goals have been discussed, a practitioner applies a simple vacuum applicator to your problem areas and a gel sheet then begins the freezing process.
Don't worry. The treatment is painless.
The vacuum raises the targeted fat and freezes that area. By doing this, the surrounding skin and nerves are left undamaged.
As a result, patients have described feeling slight cold in the area they're treating, and some minor numbness.
The process only takes about 35 minutes per area. Because Coolsculpting is noninvasive there is no need for anesthesia.
After this period, the applicator and sheet are removed, and you're done!
Do I Have to Worry About Side Effects?
The only real side-effects include some remaining pain or redness. These symptoms disappear in a couple of hours.
In the Zerona vs. Coolsculpting comparison, how does this compare to Zerona?
Laser lipo has the following potential side effects:
Infection
Skin neurosis
Dimpling
Burning
Discoloration
Sagging skin
Itchiness
That's opposed to some of the less common side effects from Coolsculpting:
Temporary redness
Aching
Soreness
Itchiness
It's important to understand that all weight loss treatments have their side effects. Yet in this case, you get to decide which treatment you want, and which potential results you're ready to experience.
Does Coolsculpting Work For Men and Women? Am I an Exception?
Coolsculpting does work for men and women.
Almost everyone seeking to lose weight in specific areas, to contour their overall appearance, and slim their proportions are able to undergo the treatment.
The only exceptions are those with blood disorders or diseases that prevent one from cold exposure.
Because of this, it's advised that you ask your doctor about Coolsculpting before undergoing treatment.

Does Coolsculpting Actually Work?
Coolsculpting treatment is both painless and non-invasive – part of the reason why it's so recognized.
But, can Coolsculpting reduce fat long-term?
Believe it or not, Coolsculpting is one of the few known cosmetic treatments that have longlasting results. That means, say goodbye to those extra pounds forever!
A PubMed study revealed a substantial decrease in fat. After the study, patients reported a 73% satisfaction rating.
What about body contouring?
This is similar to general weight loss, yet the "contouring" term is used to define specific areas of the body with collections of fat removed.
Weight loss isn't the only concern for patients of Coolsculpting, many want to see specific areas of their body with high deposits of fat removed for good. 
Coolsculpting does this, too.
That means, Coolsculpting can act as a general weight loss treatment, along with a process that shapes key areas of your body you want slim.
When Does Coolsculpting Not Work?
Weight fluctuations are caused by lifestyle choices. Coolsculpting gets you halfway there by taking care of the fat you put on over the years.
Once that fat is eliminated, the only job you have left to do is eat well and exercise.
The combination of Coolsculpting and regular exercise has shown great results.
What About Price?
Zerona averages around $2,500 for a treatment package. The process still takes a couple of weeks to perform, and additional costs may be added on per cycle.
This compares well to most forms of laser lipo, which can range between $4000 and $5000.
Coolsculpting starts at around $1,200 and scales up depending on how much treatment you want.
So, if you wanted to tone down your legs, arms, and sides, you could scale up the package to no more than $3,000-$4,000.
Zerona vs Coolsculpting: How Does Each Treatment Compare?
Coolsculpting is an option that proves to kill fat cells.
This matters if your main reason for undergoing fat reduction treatment is to lose fat. But it's important to recognize that you don't just want to seem beautiful, but you want that look to stay around.
That's why the longlasting aspects of Coolsculpting give it winning quality.
Compared to Zerona, the process promises to have lasting results. This can be attributed to the cold method.
The Zerona laser is effective short-term against combined cells but doesn't come as close to freezing the annoying extra tissue away for good.
This may help: you can think of traditional slimming methods as a dieting pill. Many treatments are useful at face value but don't make you lose weight forever.
The Path To a Slimmer, Better You
So, in the great debate between Zerona vs. Coolsculpting, which treatment does get rid of fat forever?
Though Zerona is a good short-term option of losing a few pounds, Coolsculpting is a procedure that kills fat cells for good.
In other words, Coolsculpting is the clear winner.
The treatment is noninvasive, painless, and longlasting. Combined with the fact Coolsculpting is FDA approved and well-researched, it's up to you to decide if the treatment is right for you.
To that end, are you tired of being unhappy with your personal image? Gotten sick of love handles?
Excellent 5 Star Rating on

YI.

I just tried cool sculpting (fat freeze) with Yana at mybotoxLA and what can I say…. Wow wow wow. It took a while for the results to show, but once it started working you could really see the reduction. Worth every penny! Thank you Yana for the personal care and great service. It's always a pleasure and a positive experience when coming to see you. Highly recommend Yana at mybotoxLA!

NK.

I want to share my experience about coolsculpting. It was AMAZING !!! Yana is extremely knowledgeable and professional !!! It felt like I was at home watching TV! It was very comfortable and pain free! Very clean and modern office! Huge thank you to Yana!!! Best experience ever!!!

AD.

OMG! LOVE this place! Yana is the sweetest!!! Went for the cool sculpting/ fat freeze procedure and wow! So simple and comfortable. Results started to show at around 4-6 weeks and kept going. She made me feel very comfortable and often checked up on me after the procedure. The office is very modern and sleek. Will go back for session #2!